Lady Liberty: Numismatists' worthy obsession
Lady Liberty's image is a staple among United States mint coins, from the gold eagle to any Liberty dollar coin. Countless variations of her iconic image, from walking Liberty figures to simply standing with her torch in hand, adorn silver coins, dollar coins, the Morgan dollar and other splendid pieces.
Even now, coin collectors and numismatists enjoy Lady Liberty every year, thanks to collectible bullion coins. But how long have we been obsessed with the liberty coin? Who is Lady Liberty, and what makes her coupling with the American bald eagle so alluring?
Let's take a brief journey through her inception, from who she is to how she can help collectors and investors alike grow their wealth.
Who is Lady Liberty & why is she on the dollar coin?
Lady Liberty's image adorning many multifaceted coins was adapted from the Roman goddess, Libertas. She embodied the idea of freedom, a hearty American concept thought by many to deserve a permanent representation that could be held, cherished and used by every citizen.
In fact, the first Liberty coin documented was created in 1793 by Henry Voigt. And while many individuals may have found his original representation of Lady Liberty to be messy and disheveled, she was still Voigt's representation of freedom. In fact, most if not all liberty silver coins and other variations still afford her the flowing grace of wind blowing through her locks.
Her image was later stylized by including draped bust imagery with her hair loosely pulled from her face. One of the most famous coins to depict her as such is the 1795 Draped Bust dollar, by Gilbert Stuart.
How much is a Lady Liberty coin worth?
If you've found Robert Scot's 1794 Flowing Hair dollar, you're probably in for quite a bit of wealth, as possibly less than 200 of the coins still exist.
Another rare, yet easier-to-find, gem could be any of the Walking Liberty half dollar variations, such as the 1919 D Walking Liberty Half, typically valued at about $180,500, or the 1923 S Walking Liberty Half, bringing in a still-impressive $14,000.
Depending on the year and marks, Morgan dollars may also bring in a bit of wealth. Originally minted between 1878 and 1904, the Morgan dollar features a classical Roman variation of Lady Liberty on the obverse with a lean and outstretched bald eagle holding the traditional olive branch and arrows on the reverse.
While many collectors may want to get their hands on the original Morgan dollars, new variations of the silver coin entered the mix as of 2021 when the United States mint started striking these collector's items again.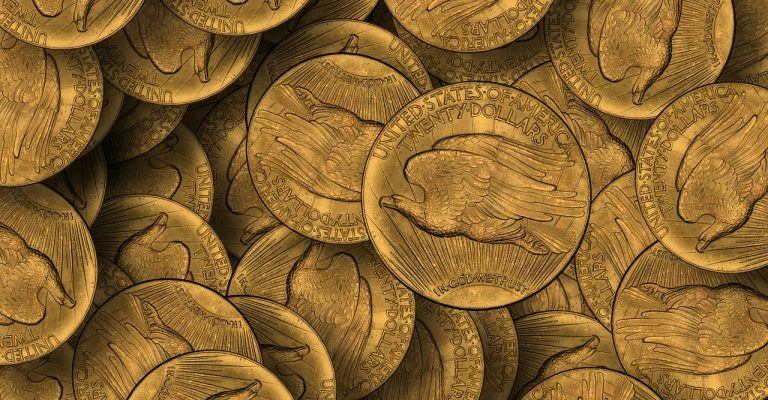 Is Lady Liberty featured on other coins?
Absolutely. In fact, one of the most iconic dollar coins, the American Eagle, features Lady Liberty in all of her brilliance.
These coins are typically made from gold instead of silver and have a higher price point. And even though the 1933 Double Eagle is one of the most sought-after coins for a plethora of reasons, coin enthusiasts have the opportunity to purchase a piece of history on an annual basis.
Gold eagle coins feature Lady Liberty in a triumphant pose, standing on a rock with a branch in one hand and a torch adorning the other. On the reverse is a bold image of an eagle profile. This coin is typically printed annually, with only a few documented gaps from its design and use date in 1986.
Though not gold, the silver Peace dollar, originally minted between 1921 and 1928, saw a reemergence in 1934 and 1935 before vanishing for over 85 years until its comeback in 2021.
Anthony de Francisci's design featured a tamer but more robust image of Liberty on the obverse of these Liberty silver coins. The reverse featured an equally tame, yet pragmatic, eagle on the reverse.
What other half dollar coin & dollar Liberty coin should I watch for?
Still interested in the other liberty silver coins? Try searching for:
1938-D Walking Liberty half dollar
1928-S Peace dollar
1925-S Peace dollar
1893-S Morgan dollar
1916-S Walking Liberty half dollar
1921-S Walking Liberty half dollar
If you're an avid coin collector, the 2021 Liberty Peace dollar is a great addition to any collection. If you're searching for more of the gold standard, try the 2022 American gold eagle coin.
Whether you're in the market for a Walking Liberty half dollar or are hoping to pick up the next Morgan dollar, find a reputable coin dealer. Once you find one, you'll be sure to expand your collection further based on their stock quantity of half dollars, Liberty coins, various bullion coins and other lovely collectable items.