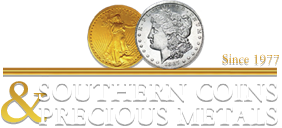 New Orleans Gold & Rare Coins Dealer
Serving the Greater New Orleans Area
Southern Coins & Precious Metals (SCPM) has been a leader in the numismatic community since 1977.
Proudly servicing a nationwide clientele, SCPM offers easy and secure online ordering, live spot pricing & the latest in numismatic news.


Having The Advantage
Top investment strategists agree that the key to a successful investment portfolio is diversification of funds in a variety of asset classes. See how we can help you get the best advantage.


SCPM Consumer Protection
Through the mid-1980's, rare coin prices were determined by individual dealers using their own subjective criteria to judge the quality or condition of a coin. Unfortunately, this led to conflicts of interest and many abuses in our industry. Investors now enjoy consistent, independent third-party grading of coins by firms whose sole function is to authenticate and grade coins. In the major grading services coins are graded not by an individual grader, but by the consensus of a panel of experts. To protect the integrity of the final, assigned grade, the coins are sealed in tamper-resistant plastic holders that are sonically sealed with an individual certification number and the grade permanently displayed…Learn More


Sell Your Gold to SCPM
If you're interested in selling precious metals, please get in touch with Southern Coins & Precious Metals today. A leader in the numismatic community, our company was created to appraise fine metals, and to buy and sell rare coins and precious metals. New Orleans locals have trusted and depended on us for this service for 40 years. We look forward to working with you when you would like to invest in or sell precious metals, coins or currency. You are welcome to come in or contact us with any questions regarding the process. Come visit us and see for yourself why we have been trusted by our clients for the past four decades. You won't be sorry!…Learn More